Contact
Email

Phone

304-293-7430

Address

PO Box 9229
108 Biomedical Road
BMRC 105
Morgantown, WV 26506

Curriculum Vitae
Positions
Professor, Interim Chair
Department:

Classification:

Faculty
Professor
Department:

Classification:

Faculty
Education
PhD, Michigan State University
Publications
[2018]
[2017]
[2016]
[2015]
[2008]
[2003]
[2001]
[1992]
[1983]
Publications Link
About James W Simpkins
Biographical Sketch
James W. Simpkins received his Ph.D. degree under the mentorship of the pioneering neuroendocrinologist, Joseph Meites at Michigan State University in 1977. He then jointed the University of Florida when he rose through the academic ranks to a full professorship in 1986. At the University of Florida, he was the founding director of the Center for the Neurobiology of Aging, served as Chair of two departments and was appointed the Frank Duckworth Professor of Drug Discovery in 1996. In 2000, he became the Professor and Chair of the Department of Pharmacology & Neuroscience and Founding Director of the Institute for Aging and Alzheimer's Disease Research at the University of North Texas Health Science Center at Fort Worth. In 2012, he joined the faculty of the Department of Physiology and Pharmacology of West Virginia University and serves as the Founding Director of the Center for Basic and Translational Stroke Research. In 2012, he received the Harman Award for Life-time Achievement for Aging Research from the American Association of Aging. In 2015, he was named the Highland Chair of Stroke/Neurology at the WVU. The author of 420 full length publications, his research has focus on the discovery of novel compounds for the treatment of age-related brain disorders, with a particular focus on Alzheimer's disease and stroke. His body of research has resulted in 22 issued US and foreign patents. He has mentored numerous PhD students, post-doctoral fellows and junior faculty to research and career success at the University of Florida, the University of North Texas Health Science Center and continued to do so at the West Virginia University.
Additional Info
Our lab studies the causes and potential treatment for Alzheimer's disease (AD) and stroke in animal models and in human subjects. We are trying to understand the cause of brain damage from AD stroke and to develop treatments based on our understanding of causes. We use rats to induce stroke damage and a variety of techniques, including molecular biology, behavioral assessment and drug interventions to determine the causes and potential treatment for stroke damage. Our work also involves the use of transgenic mouse models, primarily for modeling AD. West Virginia has one of the highest incidences of stroke in the nation and currently therapies to limit stoke damage are limited. Our lab therefore is searching for novel treatments that can limit the damage and/or improve recovery from stroke.

Dana Foundation Blog: Dr. Simpkins on Stroke - http://danablog.org/2014/05/29/james-simpkins-on-stroke/
Research Program
Center for Basic & Translational Stroke Research
Research Interests
We assess the role of mitochondria in stroke propensity and stroke damage. These studies are aims at identifying the mechanism by which mitochondrial dysfunction contributes to stroke damage and the possibility of targeting drugs to these mitochondrial defects as a therapy for prevention/acute treatment of stroke.
Assessment of vaious classes of drugs on neuroprotection in stroke and AD. We have a drug discovery program that attempts to discover novel compounds with efficacy in stroke and AD. One such class of compounds we have termed non-feminizing estrogens.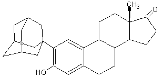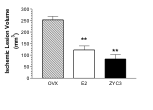 Structure and stroke protective effects of a non-feminizing estrogen (ZYC3)
We assess the effects of beta amyloid on mitochondrial function to determine how this neurotoxic peptide causes loss of synapses and neurons in the brain.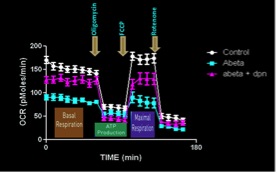 Short-term treatment with beta amyloid (Abeta) causes a profound decline in mitochondrial function in promary neuronal cultures.