Contact
Email

Phone

304-293-5295

Fax

304-293-4667

Address

PO Box 9300
2832 HSC South
44 Medical Center Drive
Morgantown, WV 26506

Curriculum Vitae
Positions
Associate Professor
Department:

Classification:

Faculty
Member
Department:

Classification:

Faculty
Associate Professor
Department:

Classification:

Faculty
Education
PhD, Institute of Molecular Biology, Russian Academy of Science, 1999
Publications
Jones BC, Kelley LC, Loskutov YV, Marinak KM, Kozyreva VK, Smolkin MB, Pugacheva EN. "Dual Targeting of Mesenchymal and Amoeboid Motility Hinders Metastatic Behavior." Mol Cancer Res. 2017 Feb 24. pii: molcanres.0411.2016. doi: 10.1158/1541-7786.MCR-16-0411. PMID: 28235899
Burgett ME, Lathia JD, Roth P, Nowacki AS, Galileo DS, Pugacheva E, Huang P, Vasanji A, Li M, Byzova T, Mikkelsen T, Bao S, Rich JN, Weller M, Gladson CL. "Direct contact with perivascular tumor cells enhances integrin αvβ3 signaling and migration of endothelial cells." Oncotarget. 2016 May 30. doi: 10.18632/oncotarget.9700. [Epub ahead of print], PMID: 27270311
Varvara K. Kozyreva, Anna A. Kiseleva, Ryan J. Ice, Brandon C. Jones, Yuriy V. Loskutov, Fatimah Matalkah, Matthew B. Smolkin, Kristina Marinak, Ryan H. Livengood, Mohamad A. Salkeni, Sijin Wen, Hannah W. Hazard, Ginger P. Layne, Callee M. Walsh, Pamela S. Cantrell, Greg W. Kilby, Sricharan Mahavadi, Neal Shah, and Elena N. Pugacheva#. "Combination of eribulin and Aurora A inhibitor MLN8237 prevents metastatic colonization and induces cytotoxic autophagy in breast cancer." Mol Cancer Ther. 2016 Aug;15(8):1809-22. doi: 10.1158/1535-7163.MCT-15-0688. Epub 2016 May 27. PMID: 27235164
Jino Park, Michaela Schlederer, Martin Schreiber, Ryan Ice, Olaf Merkel, Martin Bilban, Sebastian Hofbauer, Soojin Kim, Joseph Addison, Jie Zou, Chunyan Ji, Silvia T. Bunting, Zhengqi Wang, Menachem Shoham, Gang Huang, Zsuzsanna Bago-Horvath, Laura F. Gibson, Yon Rojanasakul, Scot Remick, Alexey Ivanov, Elena Pugacheva, Kevin D. Bunting, Richard Moriggl, Lukas Kenner, and William Tse. "AF1q is a novel TCF7 co-factor which activates CD44 and promotes breast cancer metastasis." Oncotarget, 2015, Aug 21;6(24):20697-710. PMID: 26079538.
Chen-Chung Lin, Sriganesh B. Sharma, Mark K. Farrugia, Sarah L. McLaughlin, Ryan J. Ice, Yuriy V. Loskutov, Elena N. Pugacheva, Kathleen M. Brundage, Dongquan Chen and J. Michael Ruppert. "Kruppel-like factor 4 signals through microRNA-206 to promote tumor initiation and cell survival." Oncogenesis, 2015, Jun 8;4:e155. doi: 10.1038/oncsis.2015.8. PMID: 26053033
Addison JB, Koontz C, Fugett JH, Creighton CJ, Chen D, Farrugia MK, Padon RR, Voronkova MA, McLaughlin SL, Livengood RH, Lin CC, Ruppert JM, Pugacheva EN, Ivanov AV. "KAP1 Promotes Proliferation and Metastatic Progression of Breast Cancer Cells." Cancer Res. 2015 Jan 15;75(2):344-55. doi: 10.1158/0008-5472.CAN-14-1561. Epub 2014 Nov 24. PMID: 25421577
Iida J, Dorchak J, Clancy R, Slavik J, Ellsworth R, Katagiri Y, Pugacheva EN, van Kuppevelt TH, Mural RJ, Cutler ML, Shriver CD. "Role for chondroitin sulfate glycosaminoglycan in NEDD9-mediated breast cancer cell growth." Exp Cell Res. 2015 Jan 15;330(2):358-70. doi: 10.1016/j.yexcr.2014.11.002. Epub 2014 Nov 13. PMID: 25445787
Kozyulina PY, Loskutov YV, Kozyreva VK, Rajulapati A, Ice RJ, Jones BC, Pugacheva EN*. "Pro-metastatic NEDD9 regulates individual cell migration via caveolin-1-dependent trafficking of integrins." Mol. Cancer Res. 2014 Oct 15, pii: molcanres.0353.2014. PMID:25319010
Loskutov YV, Kozyulina PY, Kozyreva VK, Ice RJ, Jones BC, Roston TJ, Smolkin MB, Ivanov AV, Wysolmerski RB, Pugacheva EN*. "NEDD9/Arf6-dependent endocytic trafficking of matrix metalloproteinase 14: a novel mechanism for blocking mesenchymal cell invasion and metastasis of breast cancer." Oncogene. 2014 Sep 22. doi: 10.1038/onc.2014.297. PMID:25241893
Kozyreva VK, McLaughlin SL, Livengood RH, Calkins RA, Kelley LC, Rajulapati A, Ice RJ, Smolkin MB, Weed SA, and Pugacheva EN*. "NEDD9 Regulates Actin Dynamics through Cortactin Deacetylation in an AURKA/HDAC6-dependent Manner". Mol. Cancer Res. 2014, Mol Cancer Res. 2014 May;12(5):681-93. doi: 10.1158/1541-7786.MCR-13-0654. Epub 2014 Feb 26. PMID:24574519
McLaughlin SL, Ice RJ, Rajulapati A, Kozyulina PY, Livengood RH, Kozyreva VK, Loskutov YV, Culp MV, Weed SA, Ivanov AV, Pugacheva EN*. "NEDD9 depletion leads to MMP14 inactivation by TIMP2 and prevents invasion and metastasis". Mol. Cancer Res. 2014 Jan;12(1):69-81. doi: 10.1158/1541-7786.MCR-13-0300. Epub 2013 Nov 7.
Ice RJ, McLaughlin SL, Livengood RH, Culp MV, Eddy ER, Ivanov AV, Pugacheva EN*. "NEDD9 depletion destabilizes Aurora A kinase and heightens the efficacy of Aurora A inhibitors: implications for treatment of metastatic solid tumors." Cancer Res. 2013 Mar 28, PMID: 23539442.
Plotnikova OV, Nikonova AS, Loskutov YV, Kozyulina PY, Pugacheva EN, Golemis EA. "Calmodulin activation of Aurora-A kinase (AURKA) is required during ciliary disassembly and in mitosis." Mol. Biol. Cell. 23(14) July: 2658-70, 2012.
Gu JJ, Lavau CP, Pugacheva E, Soderblom EJ, Moseley MA, Pendergast AM. "Abl family kinases modulate T cell-mediated inflammation and chemokine-induced migration through the adaptor HEF1 and the GTPase Rap1." Science Signal. 5(233) July: ra51, 2012.
Zhong J, Baquiran JB, Bonakdar N, Lees J, Ching YW, Pugacheva E, Fabry B, O'Neill GM. "NEDD9 stabilizes focal adhesions, increases binding to the extra-cellular matrix and differentially effects 2D versus 3D cell migration." PLoS One. 7(4): e35058, 2012.
Plotnikova OV, Pugacheva EN, Golemis EA. "Aurora A kinase activity influences calcium signaling in kidney cells." J Cell Biol. 193(6):1021-32, 2011.
Finola E Moore, Evan C Osmundson, Jennifer Koblinski, Elena Pugacheva, Erica A Golemis, Dipankar Ray, and Hiroaki Kiyokawa."The WW-HECT protein Smurf2 interacts with the Docking Protein NEDD9/HEF1 for Aurora A activation." Cell Div. 5:22, 2-8, 2010.
Olga V. Plotnikova, Elena N. Pugacheva, Roland L. Dunbrack, and Erica A. Golemis. "Rapid calcium-dependent activation of Aurora-A kinase." Nature Commun. 1(6): 1-8, 2010.
Complete List of Published Work in My Bibliography
http://www.ncbi.nlm.nih.gov/sites/myncbi/elena nikolaevna.pugacheva.1/bibliography/40503184/public/?sort=date&direction=ascending
Research Interests
Project #1
To investigate involvement of adhesion proteins in activation of the AurA mitotic kinase, and the role of mitotic kinases in adhesion signal transduction.
The fundamental question we are interested in is how cell adhesion and cell mitotic machineries communicate with each other. It is the matter of life for a multi-cellular organism, where specific and oriented adhesions were evolutionary necessary to develop. The main focus of the Pugacheva Lab is the focal adhesion scaffolding proteins of the Cas family (p130Cas, HEF1\CasL\Nedd9, Efs\Sin, HEPL). HEF1, a member of this family functions in both cell adhesion and mitosis. The first observation of HEF1 localization in the mitotic spindle dates to 1996 (Low S., Molecular and Cellular Biology, 1996), but the functional significance of this was not clear at that time. Centrosome and microtubules are the key elements of mitotic spindle. Recently, we have identified HEF1 as a centrosomal protein and have shown its role in centrosome maturation and mitosis initiation. Mitotic onset as well as exit from mitosis precisely orchestrated by the mitotic kinases of Aurora, PLK and NIMA families. We found that HEF1 is the direct binding partner and one of the activators of the mitotic kinase Aurora A (Pugacheva et al., Nature Cell Biology, 2005).
Aurora A is an evolutionary conserved Ser/Thr kinase. It was found extremely important for licensing mitotic entry in variety of living organisms mainly through phosphorylation of cyclins, histones, kinases and centrosome scaffolding proteins. Inactivation of Aurora A causes cell cycle arrest at G2/M phase and withdraws cells from further division. It is not surprising that AurA was found over expressed in majority of human cancers. Molecular mechanisms of AurA activation are not well defined. Interestingly, another recently published Aurora A activator, the protein of Zyxin family- Ajuba, was found in the complex with p130Cas (Pratt et al., J Cell Biol. 2005). As a part of an ongoing project we study potential interaction between Ajuba and HEF1 proteins and its importance for mitotic regulation. The current model AurA activation in mitosis is depicted on Fig.1.
Fig1. Activation and stability of AurA kinase is tightly regulated during the cell cycle. HEF1 and Ajuba were recently identified as AurA binding partners promoting AurA activity at the G2/M transition.
Project #2
Determine molecular mechanisms governing cell-cycle dependent cilium disassembly in mammalian cells.
AurA function was closely related to regulation of cell cycle and was studied only in mitosis. Surprisingly, while we were working on Aur-HEF1 connection, we discovered that AurA is important for disassembly of centrosome-based structure called cilia in G1 phase of the cell cycle. Primary cilia can be detected on the apical surface of the cells and are considered as an environment sensory organ implicated in cell migration, Ca2+ dynamics, proliferation and differentiation. A number of human diseases are associated with ciliary dysfunction, including polycystic kidney disease (PKD), male infertility and Bardet-Biedl Syndrome (BBS). Using the immortalized retinal pigment epithelium cell line (RPE1-hTERT), we have identified AurA kinase as a necessary and sufficient factor inducing cilium disassembly (Pugacheva et al Cell 2007). Our current efforts are dedicated to outlining the molecular mechanisms governing AurA activation in G0/G1 phase and finding AurA substrates responsible for cilium disassembly.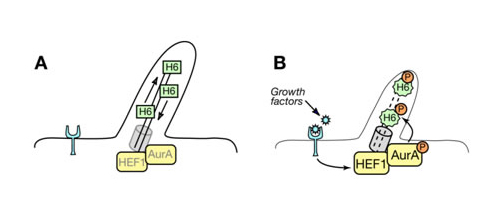 One of the potential substrates we have identified is HDAC6. HDAC6 directly regulates microtubule dynamics by deacetylation of microtubule bundles. Phosphorylation by AurA causes a substantial increase in HDAC6 deacetylase activity and promotes microtubule instability. As the upstream regulators of AurA activity: HEF1 and PAK1 (p21 activated kinase) were suggested. As an ongoing project we study how inactivation of PAK1 could regulate cilium dynamics in human cells. We think that adhesion scaffolding proteins serve as ideal mechanic sensors regulating the length of cilium at different stages of cell cycle and upon certain environmental changes, like growth factors, Ca2+ release or pH (Fig.2).
Fig.2 Working Model. A. Aurora A (AurA) and low levels of HEF1 are localized to the basal body of quiescent, ciliated cells. B. Growth factors induce HEF1 expression, promoting HEF1-dependent activation of Aurora A. This results in phosphorylation of ciliary HDAC6 6 (H6) by Aurora A, thereby inducing ciliary resorption.