Contact
Email

Phone

304-293-4936

Fax

304-293-6846

Address

PO Box 9300
218 BMRF
108 Biomedical Road
Morgantown, WV 26506
Positions
Res. Assistant Professor
Department:

Classification:

Faculty
Member
Department:

Classification:

Faculty
Education
MS, Moscow State University, 1994
PhD, Engelhardt Institute of Molecular Biology, Russian Academy of Sciences, 1999
Publications
Park J, Schlederer M, Schreiber M, Ice R, Merkel O, Bilban M, Hofbauer S, Kim S, Addison J, Zou J, Ji C, Bunting ST, Wang Z, Shoham M, Huang G, Bago-Horvath Z, Gibson LF, Rojanasakul Y, Remick S, Ivanov A, Pugacheva E, Bunting KD, Moriggl R, Kenner L, Tse W. "AF1q is a novel TCF7 co-factor which activates CD44 and promotes breast cancer metastasis". Oncotarget. 2015 Aug 21;6(24):20697-710.
Addison JB, Koontz C, Fugett JH, Creighton CJ, Chen D, Farrugia MK, Padon RR, Voronkova MA, McLaughlin SL, Livengood RH, Lin CC, Ruppert JM, Pugacheva EN and Ivanov AV. "KAP1 promotes proliferation and metastatic progression of breast cancer cells". Cancer Research. 2015 Jan 15;75(2):344-55. doi: 10.1158/0008-5472.CAN-14-1561. Epub 2014 Nov 24.
Loskutov YV, Kozyulina PY, Kozyreva VK, Ice RJ, Jones BC, Roston TJ, Smolkin MB, Ivanov AV, Wysolmerski RB, and Pugacheva EN. "NEDD9/Arf6-dependent endocytic trafficking of matrix metalloproteinase 14: A novel mechanism for blocking mesenchymal cell invasion and metastasis of breast cancer". Oncogene. 2014 Sep 22. doi: 10.1038/onc.2014.297. [Epub ahead of print]
McLaughlin SL, Ice RJ, Rajulapati A, Kozyulina PY, Livengood RH, Kozyreva VK, Loskutov YV, Culp MV, Weed SA, Ivanov AV, Pugacheva EN. "NEDD9 depletion leads to MMP14 inactivation by TIMP2 and prevents invasion and metastasis". Molecular Cancer Research. 2014 Jan; 12(1):69-81. doi: 10.1158/1541-7786.MCR-13-0300. Epub 2013 Nov 7.
Pacurari M, Addison JB, Bondalapati N, Wan YW, Luo D, Qian Y, Castranova V, Ivanov AV*, Guo NL*. "The microRNA-200 family targets multiple non-small cell lung cancer prognostic markers in H1299 cells and BEAS-2B cells". Int J Oncol. 2013 Aug;43(2):548-60. doi: 10.3892/ijo.2013.1963. Epub 2013 May 27. PMID: 23708087
Ice RJ, McLaughlin SL, Livengood RH, Culp MV, Eddy ER, Ivanov AV, Pugacheva EN. "NEDD9 depletion destabilizes Aurora A kinase and heightens the efficacy of Aurora A inhibitors: implications for treatment of metastatic solid tumors". Cancer Res. 2013 May 15;73(10):3168-80. doi: 10.1158/0008-5472.CAN-12-4008. Epub 2013 Mar 28. PMID: 23539442
Research Program
Alexander B. Osborn Hematopoietic Malignancy and Transplantation Program
Research Interests
Highlighted Project 1: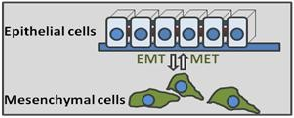 Cancer is a disease of gene expression. Through studies of breast and lung cancer we are working to understand general principles of gene misregulation in cancer cells with particular emphasis on gene transcription and microRNAs. Vast majority of human tumors are of epithelial origin, e.g. they derive from cells normally highly organized in specialized epithelial layers. At the same time, most cancer-related deaths occur due to tumor recurrence and spread to distant organs (metastasis), which are tightly linked to acquisition by cancer cells of mesenchymal properties such as increased motility, invasion and resistance to chemotherapy. The metastasis stage of cancer is associated with the epithelial-to-mesenchymal transition (EMT). Normally activated only during early embryonic development, the EMT program is highjacked by cancer cells during evolution of individual tumors. EMT is activated by a handful or transcription factors referred to as the EMT master regulators, such as Snail and ZEB.
The goals of our research are to identify transcriptional network involved in activation of EMT during cancer metastasis. This knowledge will help to develop future therapeutic approaches in treating cancer and prevention of metastasis.
Relevant Publications:
Pacurari M, Addison JB, Bondalapati N, Wan YW, Luo D, Qian Y, Castranova V, Ivanov AV, Guo NL. The microRNA-200 family targets multiple non-small cell lung cancer prognostic markers in H1299 cells and BEAS-2B cells. International Journal of Oncology. 2013 Aug; 43(2):548-60.
Cieply B, Riley P, Pifer P, Widmeyer J, Addison JB, Ivanov AV, Denvir J, Frisch SM. Suppression of the epithelial-mesenchymal transition by grainyhead-like-2. Cancer Research. 2012 May 1; 72(9):2440-53.
Highlighted Project 2: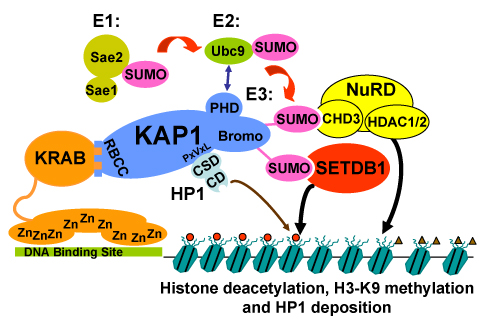 Eukaryotic genomes are, in general, in a default state of repression, where the vast majority of genes are turned off or silenced. This repression is accomplished largely through packaging DNA into tightly coiled DNA-protein fibers called chromatin by association with histones and other proteins. This means that chromatin must be uncoiled before allowing genes to be accessed by proteins that mediate transcription. One mechanism that regulates chromatin structure is the attachment of chemical groups to the histones. It is now becoming clear that a diverse array of enzymes modify histones and place a range of various chemical modifications, including acetylation, phosphorylation, methylation, and sumoylation. One appealing idea is that the pattern and identity of histone modifications constitute a "code" for specific processes, such as transcription. The histone code is written in proteins, not DNA, it can be heritable and constitutes the basis of epigenetics which is increasingly recognized as an important factor in cancer development.
The main system for studying the mechanisms of transcriptional repression in the lab is KRAB domain containing transcription factors. The KRAB-zinc finger (KRAB-ZNF) superfamily of DNA-binding transcriptional repressors is the largest family of gene silencers encoded in the human genome: Estimates are that of the >700 Cys2-His2 class zinc finger genes, more than 350 contain the highly conserved ~75 amino acid KRAB repression domain. KRAB-ZNF mediated transcriptional silencing requires a direct interaction with an obligate co-repressor KAP1 (TRIM28), which serves as a scaffolding protein for recruitment of repression machinery. KAP1 plays important roles in embryonic development, stem cell self-renewal, chromatin organization, and the DNA damage response, acting as an essential corepressor for KRAB-ZNFs. Given the relevance of developmental cell fate regulators and stem cell pluripotency to cancer pathogenesis, understanding how KAP1 functions in cancer cells might be critical for developing future therapeutic strategies.
We recently showed that KAP1 promotes breast cancer cell proliferation and metastasis. The goals of our research are to elucidate the molecular mechanisms by which KAP1 contributes to cancer progression.
Grants and Research
My laboratory focuses on mechanisms that regulate gene expression with a special emphasis on gene repression. The laboratory seeks to define the biochemical and molecular mechanisms that govern the silencing of tumor-restrictive genes during tumor initiation and progression. We study the largest family of human transcriptional repressors, KRAB zinc finger proteins (KRAB-ZNFs), and their co-repressor protein KAP1 and their involvement in progression of breast, lung and hematological cancers. In particular, we are interested in investigating the role of KRAB-ZNFs and KAP1 in epithelial-mesenchymal transition, a developmental program often activated in epithelial cancers.