Contact
Email

Phone

304-293-1502

Fax

304-293-3850

Address

PO Box 9229
BMRC Room 111
Morgantown, WV
26506
Positions
Professor
Department:

Classification:

Faculty
Associate Professor
Department:

Classification:

Faculty
Education
PhD, University of Kentucky
Publications
Hileman S M, R J Handa, and G L Jackson. Distribution of estrogen receptor-beta messenger ribonucleic acid in the male sheep hypothalamus. Biol Reprod 60:1279-1284, 1999.
Hileman S M and G L Jackson. Regulation of gonadotrophin-releasing hormone secretion by testosterone in male sheep. J Reprod Fertil Suppl 54:231-242, 1999.
Hileman S M, L S Lubbers, H T Jansen, and M J Lehman. Changes in hypothalamic estrogen receptor-containing cell numbers in response to feed restriction in the female lamb. Neuroendocrinology 69:430-437, 1999.
Ahima RS, Hileman S M. Postnatal regulation of hypothalamic neuropeptide expression by leptin: implications for energy balance and neuroendocrine function. Regulatory Peptides 92:1-7, 2000.
Hileman S M, D D Pierroz, and J S Flier. Leptin, nutrition, and reproduction: timing is everything. J Clin Endocrinol Metab 85:804-807, 2000.
Hileman S M, J Tornoe, J S Flier, and C Bjorbaek. Transcellular transport of leptin by the short leptin receptor isoform ObRa in Madin-Darby Canine Kidney cells. Endocrinology 141:1955-1961, 2000.
El Haschimi K, Pierroz D, Hileman S M, Bjorbaek C, Flier JS. Two defects contribute to hypothalamic leptin resistance in mice with diet-induced obesity. J Clin Inv 105:1827-1832, 2000.
Ziotopoulou M, Erani DM, Hileman S M, Bjorbaek C, Matzoros C. Unlike leptin, ciliary neurotrophic factor does not reverse the starvation-induced changes of serum corticosterone and hypothalamic neuropeptide levels, but induces expression of hypothalamic inhibitors of leptin signaling. Diabetes 49:1890-1896, 2000.
Ziotopoulou M, Mantzoros C, Hileman S M, Flier JS. Differential expression of hypothalamic neuropeptides in the early phase of diet-induced obesity in mice. Am J Physiol 279:E838-845, 2000.
Ahima RS, Hileman S M. Postnatal regulation of hypothalamic neuropeptide expression by leptin: implications for energy balance and neuroendocrine function. Regulatory Peptides 92:1-7, 2000.
Hileman S M, Pierroz D, Masuzaki H, Bjorbaek C, El-Haschimi K, Banks WA, Flier JS. Characterization of short isoforms of the leptin receptor in rat cerebral microvessels and of brain uptake of leptin in mouse models of obesity. Endocrinology 143:775-783, 2002.
Ahima RS, Patel HR, Takahashi N, Yong Qi, Hileman S M, Zasloff M. Reversal of obesity and diabetes by a shark-derived aminosterol. Accepted for publication in Diabetes, 2002.
Publications Link
Research Program
Neurobiology of Food Intake and Reproduction
Research Statement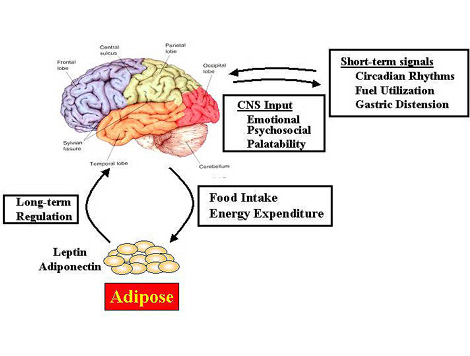 The goal of my research is to define the neurobiological pathways controlling food intake in the female and how those pathways are integrated into a system whereby nutrition can influence fertility. To accomplish this goal, several surgical, endocrine and molecular biology techniques are employed, including radioimmunoassay, in situ hybridization histochemistry, immunocytochemistry, neuroanatomical tract tracing and RT-PCR, with both rodents and sheep being used as models. The work is focused on the neural mechanisms whereby certain circulating metabolic signals, such as leptin, insulin and IGF-1 may mediate nutrition-induced changes in reproduction as well as examining potential sex-dependent differences in these systems.
Impact of Nutrition on Reproduction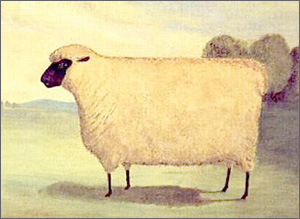 Nutrition is the major factor impacting reproduction in mammalian species. Nonetheless, little is known about the neural pathways through which inadequate nutrition reduces fertility. Our work focuses on identifying hypothalamic pathways through which endocrine signals such as leptin, insulin, or IGF-1 may influence secretion of gonadotropin releasing-hormone, a hypothalamic decapeptide essential for reproduction. Work is also underway to examine the mechanisms whereby the ability of estradiol to inhibit gonadotropin releasing-hormone is enhanced during negative energy balance. Our hope is to define the neural pathways involved in regulating reproduction during undernutrition with the aim of enhancing reproductive efficiency in domestic animals and fertility in humans.
Obesity in Females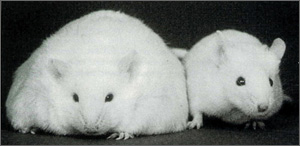 The incidence of obesity has reached epidemic proportions in the United States, and in particular, West Virginia. According to recent NIH statistics, the cost of obesity in the U.S. rose above 100 billion dollars last year. Not surprisingly, in recent years there has been an increased interest in defining the neural mechanisms whereby the brain controls food intake. However, the vast majority of these studies have examined body weight regulation in males, despite the fact that obesity in human females is at least as prevalent as in males. One focus of our laboratory is to define the neural pathways through which body weight is regulated in females. This includes the identification of pathways in the hypothalamus regulating food intake or energy expenditure that may differ between males and females and examining the mechanisms that make them different. This involves the use of several experimental paradigms, such as food restriction, high-fat feeding, and administration of leptin, an adipose-derived hormone critical in controlling body weight. We have also recently begun studies to examine adiponectin, another fat-derived hormone that may be involved in regulating body weight through actions in the brain. Previous work suggests that males and females regulate body weight differently. Thus, this work may be important for defining sex-dependent treatments for obesity in the future.